July 30th, 2010
A week ago exactly, we did a very strange and unaccountable thing: we invited some of the state's finest performers to come to Burlington and play their hearts out to benefit an obscure, underdog campaign for State Senate. But the strangest thing is that they agreed to come, these fine performers. For no other reason than that they think politics matter, and they liked our message. It was all to go down at the Black Box Theater, Main Street Landing, Burlington VT.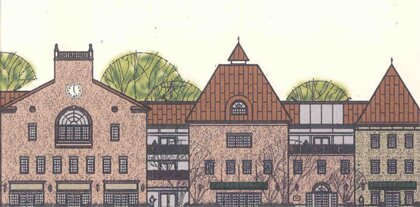 We'd billed it as an endorsement from the Vermont arts community, and so the idea was to cut out the speechifying, and let the arts speak for themselves.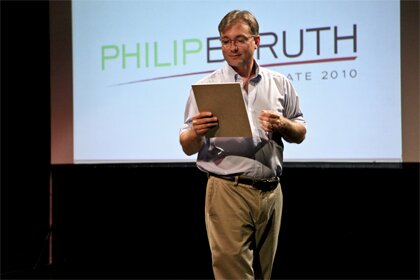 But we did make one exception: Bill Simmon had just finished the new campaign film, "Long Race," and so he introduced the video and premiered it for the assembled. Which, while it was a backdoor way of working in some speechifying, was still a wonderful performance by a very talented Vermont filmmaker.
That would be one Bill Simmon. Click here to see the film if you've missed it to this point.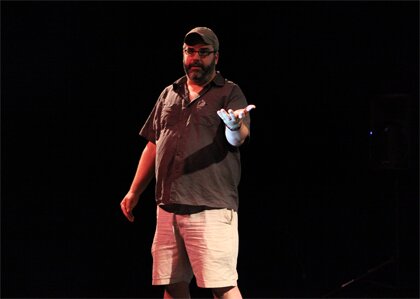 But after that one exception, for the space of a couple of hours, everyone on the campaign, along with an audience of big-hearted supporters, got to forget their various political cares and focus in on just one pressing issue: marveling at what top-notch performers can do, when they put their minds and hearts to it.
Like comedian and House Rep. Jason Lorber. It's hard to convey the fluidity with which Jason morphed from one comic incarnation to another all evening: from Master of Ceremonies, he became a stand-up comic, and then straight man to various other comics on the bill, and back again, without ever missing a beat.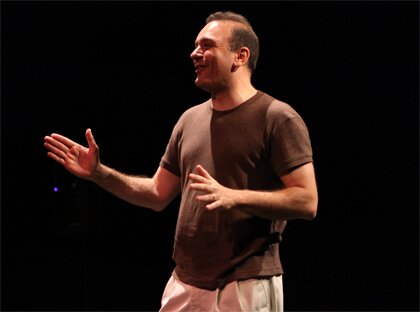 Once Jason took over, the show might as well have been on auto-pilot, so smoothly did he transition from one act to the other. Acts he'd never seen, on cues written about 45 minutes before, and with lines pulled from thin air on the spur of the moment. Highly impressive.
But everyone, maybe because the stakes were low and the good will was high, everyone's performance had a high gloss. Patti Casey did one of those sets that seems too effortless to be true: pitch-perfect ballads, haunting guitar, even clogging on the last couple of numbers.
And she dedicated my favorite song, about a very old dog on his last legs, to a beloved seventeen-year-old cat I'd just had to put down the day before. People actually cried.
I mean, other than just me.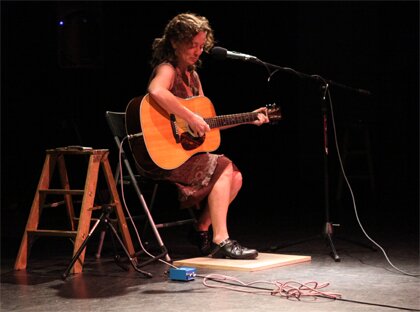 Mark Nash and Kathy Blume did a skit that maybe only a couple of actors, that is, a couple who are both actors, could pull off. A pick-up scene in a coffee shop, but one that keeps going disastrously wrong — until a bell sounds, and rewinds to the disaster point, allowing it to glide forward again. Until the next debacle.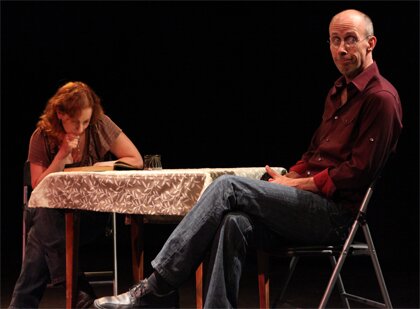 A masterpiece of timing, and a razor-sharp insight into the way that men and women typically scam their way into one another's affections. Okay, maybe mostly men.
Then it was Jay Craven's turn, and given that he's responsible for a handful of the state's most beloved films, you might have expected him to bring down the lights and cue up a scene and leave it at that. But no: Craven launched into a fantastic but true comic tale about staging a Chuck Berry concert in the Northeast Kingdom. A story that spun higher and higher, nearer and nearer catastrophe, the way only the best storytellers can lay it on.
And Jay closed with a pitch for funding, and not over-taxing, the arts, which sounded just right to my ear.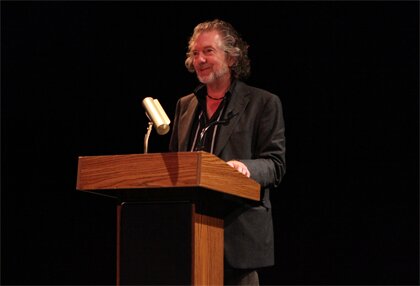 Then it was intermission, and a chance to say hello to everyone who'd managed to come out for the show. Gubernatorial candidate Matt Dunne was mingling with the crowd, and by this point in the campaign all of these die-hard supporters seem like family.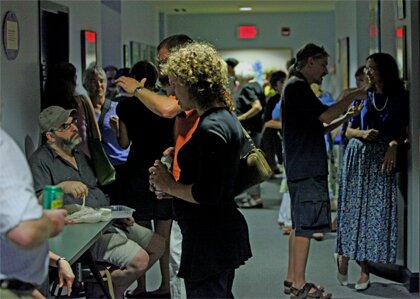 The second half got off to a very comic start: Jason Lorber did a killer ten-minute stand-up set, only to be interrupted near the end by special guests, The League of Drag Queen Voters.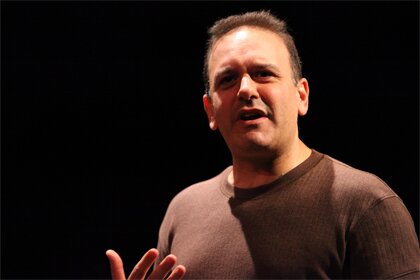 If you've never seen the League's act, it's part San Francisco, part Broadway, and two parts Burlington, and it's hilarious stuff, but always landing a sharp point with every joke. The best kind of humor.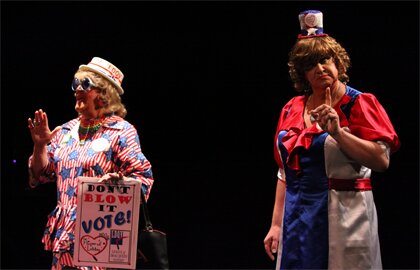 And after the League, suddenly Jason and Mark and Woodie were all wearing tuxedos, and they were doing this vaudeville classic in which three easily embarrassed guys try to cover (pantomimed) nakedness with a constantly shrinking number of file folder covers.
It made more sense then. But it was, in fact, extremely funny. Although why it was funny was trickier to figure out than it might initially seem.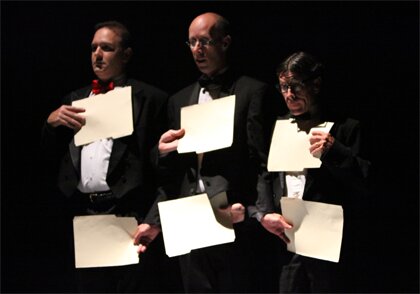 Then Kathy Blume did a scene I'd asked if she could do: the piece from her one-woman show The Boycott, where she creates, names and fleshes out the character of an endangered Brazilian tree frog with an altogether winning Spanish (not Portuguese) accent. Before saving the world from global warming, almost single-handedly. Sweet.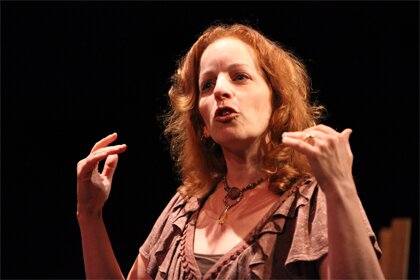 And then it was pretty much the Woody Keppel show from there on out, with Lorber as maximum straight man added into the mix.
In fact, Jason actually got off the funniest impromptu line of the night. Much of the first skit depended on Jason getting indignant at Woody's insistence on turning a racoon loose in the hall. A racoon that did not have rabies, Woody repeatedly assured the audience.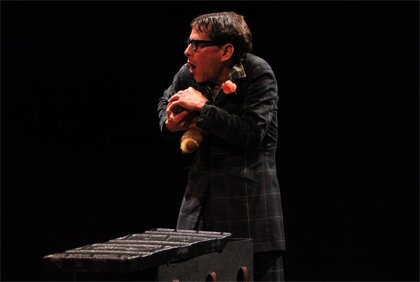 But finally, when it was clear that Woody's half-witted character planned to launch the possibly-rabid racoon anyway, Lorber stopped and screamed in disbelief, "But I'm a legislator!" And you could tell it was pure improv, just two guys who both do brilliant characters suddenly totally in synch with the comic material.
And it got edgier. Woody's character was a wild cross between Chaplin and Jerry Lewis and a sort of sweet, insane guy. A guy who only wants to climb a stepladder with a full goblet of champagne balanced on his head. A simple man with a simple quest.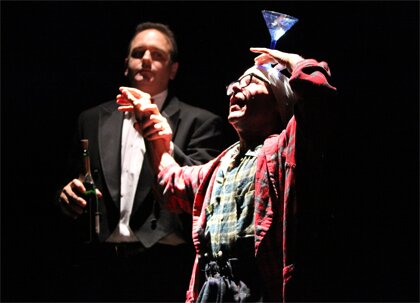 A quest that results in the champage pouring into his eyes, blinding him, as he tries to climb a wet step ladder, looking all the while just seconds away from a crippling accident.
And all the while Lorber keeps filling the glass of champagne, each time Keppel nearly falls and dies, and then they both shout, "To the top! To the very top!" Both characters in the skit, you realize, are insane.
Lots and lots of moments of laughter, but always set within a palpably thick layer of tension, like marshmallows inside a Jello mold. Brilliant.
And then it was over, and time to say thanks and goodnight. Which I did, and which I say again as honestly as I can, thanks to everyone involved for making one of the campaign's most hare-brained ideas a success, most especially the performers.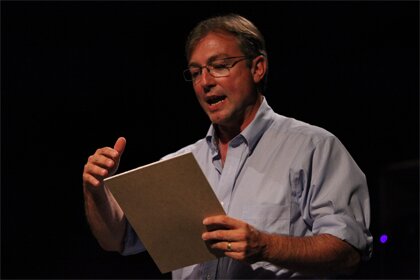 In addition to the performers, Melinda Moulton and Main Street Landing also deserve huge thanks, both for sponsoring and for providing the city with Main Street Landing in the first place. Selene Colburn did yeowoman's work managing the show, aided by God of Lighting John Forbes. And the photos you're looking at came from the lens of Matt Goudey, campaign videographer and all-around optical/audio genius. Muchas gracias, Matt.
Rachel Siegel and Kecia Gaboriault crewed like longtime professionals, Sharon Thayer handled the box office, Neil Jensen and his very cool son Eli handled the door, and my buddy Mary Lou Kete worked the information table, plying folks with cookies. Thanks one and all.
And thanks to the Skinny Pancake for lunch. It was real good.
And thanks to everyone who turned out. We needed you, and it was great that you all helped us make it happen. In fact, a small but amazing number of people who couldn't even come that Thursday, and knew for a fact that they and their spouse couldn't be there, bought two tickets anyway, and I'd like to give them the last shout-out.
Because how amazingly sweet is that?