January 11th, 2011
Don't want to get you all worked up for nothing, but there's a pretty damn exciting possibility out there suddenly: Joe Lieberman, the dynamic and straight-talking Independent (formerly of the Connecticut for Lieberman Party before it lost its ballot line) is hinting that he just may consider a run for re-election to his Senate seat in 2012 . . . wait for it . . . as a Democrat!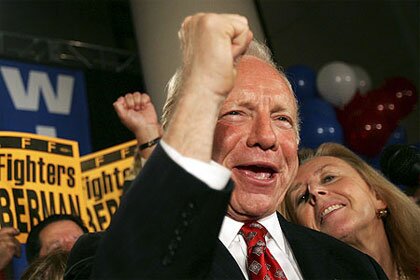 Sure, he's being coy, as one might expect of a dynamic straight-talker, merely hinting that powerful Dems in DC are courting. And also hinting, very subtly, that he might well be "open to supporting" President Obama's re-election at the very same time! Oh rapture!
Still, let's be realistic: Obama's going to have to work that vein pretty darn hard to turn it into Lieberman gold come 2012. An endorsement from Big Joe is never assured.
But once you've got that blessing going for you, put it like this: you don't sweat the Romneys and the Huckabees. So, you know, cautious finger-crossing on our part here at VDB.
Now if only Harry Reid can avoid antagonizing Lieberman, and keep a flow of favors and dainty treats headed his way, we could well see him as a full-time member of our national Democratic caucus again, not to mention Chair of Homeland Security. Maybe even (let's not jinx things) an out-of-the-box VP pick if Biden gets put on the Amtrak back to Delaware.
Ok, VDB has to go and lay down now for a little, out of joy.