January 24th, 2011
Elections have consequences, as Dick Cheney liked to say. So happy consequences: Deb Markowitz at the Agency of Natural Resources has announced that she will reverse an 11th-hour ruling by the Douglas administration allowing ATV use on state land, to connect private trails. Yes.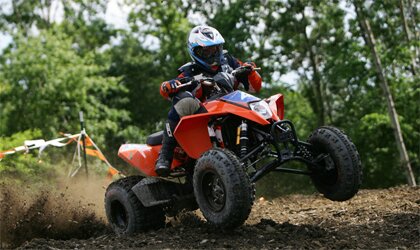 Markowitz points out that the ruling should come as no surprise, in that both she and Peter Shumlim promised on the campaign trail to reverse the rule. Which sounds about right to VDB. Of course, not everyone's day was brightened by the news. ShadyLane08, commenting at the Free Press website, produced this shrewd analogy:

It's not every day we run into an ideological opponent like this, one whose lancing wit and incontrovertible logic and disarming use of all capital letters leaves VDB beaten and cowed. Well challenged, ShadyLane08.
You have eaten our Liberal lunch this day, and although public lands will continue to be off-limits to ATV riders and the casual destruction they cause, we will always know that we were bested when it counted.