June 6th, 2011
The thing about an arch-nemesis is that they're never supposed to die, or worse, fade away. Which was the problem with Joe Lieberman: he couldn't even get the nemesis thing down right. No, he had to just collapse in a gelatinous mass of self-justifying goo. But not Rick Santorum, VDB's other longtime foe. Santorum, despite losing his last bid for elected office by 18 full percentage points, has decided that America cannot continue to prosper without himself, Rick Santorum, at the helm. He will run for President. Of the country.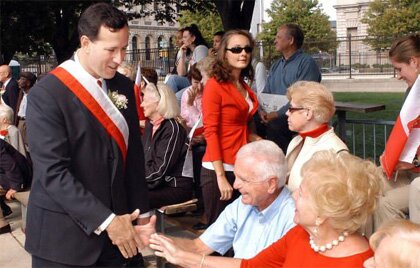 Since losing in 2006, Santorum haunts city parks, draped with bunting, picking fights about various slippery slopes.

Are we ecstatic here at VDB? To put it mildly. Santorum typifies the worst of the Christian Right: sanctimonious, hypocritical, leveraging the Lord for political gain at every turn. Can he win the nomination? Not a prayer in Hell. But will we be able to poke a hole in his balloon pretty much every week, maybe twice a week come Iowa Caucus time? You can take that to the bank, as Robert Blake used to say before he killed his wife and beat the rap.
Oh, and will we run The Photo in this new battle we've just joined with Santorum? This one's for you, Steve West: