July 21st, 2011
Desperation will make a flailing Presidential candidate do bad things, things no man/woman can do and remain a man/woman. These things, rather, slowly turn the man/woman into a beast. Take Rick Santorum. Flat-lining in the polls, fundraising in the six-figure range, Brother Rick has taken now to fundraising off the infamous Dan Savage Google-bombing of Santorum's own last name (just Google it if this is somehow, against all odds, news to you).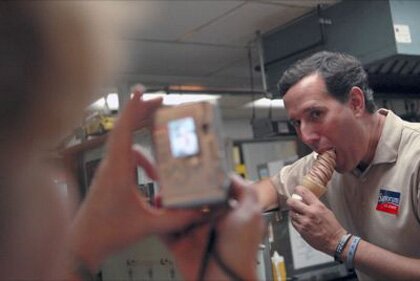 Writes Santorum, in part: "Remember this is not the first time Savage has attacked us on our stance of supporting American values. Savage and his perverted sense of humor is the reason why my children cannot Google their father's name."
Now, Santorum is no fool. He knows that many of his elderly fundraising marks have never seen the definition of "Santorum" elevated to infamy by Savage. And he also knows that mentioning, even obliquely, that his children "cannot Google their father's name" (which admittedly has a nice biblical ring to it) will cause a significant chunk of easily outraged, Internet-challenged GOPers to finally make their way to Savage's masterpiece.
So — stay with VDB here — Santorum has now clearly come around to the conclusion that sharing Savage's definition with as many people as possible is the only path to the White House. Will it work? Not in a million freaking years. Does it demonstrate that Santorum will do just about anything in his unattractive leap for Presidential power?
Yes, Lord.
What happened to Santorum's divine direction, his much-touted clarity of heart and purpose? Lost in what can only be called the frothy mix of Presidential politics.