September 15th, 2006
You knew it couldn't hold together long. It had that camera-ready gloss that always prompts people to try the finish with their thumbnail.
And this morning Brian Dubie's media-ready deployment to Iraq — and especially his campaign's decision to conceal and spring the news on primary night — began to look a good deal less dashing in the plain light of day.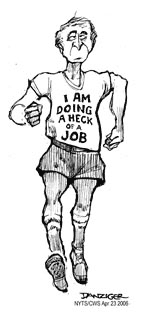 You'll remember that yesterday we asked a series of fairly common-sense questions, most related to timing. Dubie knew he was shipping out "for real" at least seven days before the primary, yet the campaign held back that information until Primary night, when it would compete effectively with Dunne's dramatic victory over Tracy.
Why the delay? Well, Martha Hanson — in the manner of people caught doing what they shouldn't under any circumstances be caught doing — tried a flurry of explanations.
First, she didn't inform Vermonters that their second-highest ranking official was shipping out to a combat zone "because she didn't see any reason to tell anybody."
You think we made up that quote to make Coke come out of your nose. But read Nancy Remsen's lede here.
Go ahead, we'll wait.
And when Hanson realized that her first explanation was likely to make Coke come out of the noses of Vermonters, she instinctively retreated into the Bush-era all-purpose Excuse of Last Resort: "She cited operational security as the primary justification for silence."
Susie Hudson, Dubie's campaign manager, quickly followed suit, arguing that "the decision about publicizing [Dubie's] deployment was a military matter. 'I left it in the hands of people who know how to handle that best.'"
Ah, yes.
Security requires that no questions be asked about anything that looks suspiciously like the politicization of security. If you want to know why Dubie's campaign saved the news of his departure for Primary Night, just think how desperately Al-Queda wants to know.
VDB knows the logic well.
But unfortunately for Hanson and Hudson, Nancy Remsen had apparently eaten some particularly hanky Wheaties yesterday, and wasn't in the mood to salute and fall silent.
Instead, Remsen called Maj. John Elolf, spokesman for the U.S. Central Command's 9th Air Force. And at first, Elolf gave the Dubie folk just the cover they were seeking.
"We hold the information about the time, travel and location until after our senior leaders have departed . . . We look at this as operational security."
But Elolf, no campaign operative he, finally didn't know when to leave well enough alone. And Remsen ends her tough-nosed little piece with a classic speaks-for-itself cutaway:
"After the team departed, however, Elolf said the deployment could have been announced, although without details. As for waiting four days to release the information, Elolf said, 'We didn't ask them to do that.'"
Could it be any clearer, at this point? Dubie may have been "activated" entirely without his own encouragement; the timing of the departure may in fact have been entirely out of his hands.
Those things we will almost certainly never know.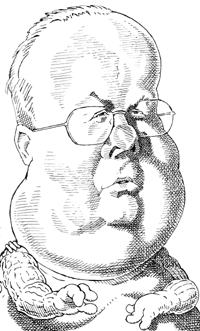 But we now know very well — if only we care to acknowledge the fact — that the Lieutenant Governor's campaign aides were unable to resist the familiar Rovian bargain: selling their credibility on issues of war and security in exchange for short-term political gain.
And the revelations of Remsen's article extend a good deal higher than mere campaign aides, it seems to VDB.
As of Tuesday, we were being told that Dubie had briefed Douglas only "a few days" prior to his departure. But in Remsen's piece, Jason Gibbs whittles that supposed timeline even further: "Dubie informed Gov. Jim Douglas of his impending deployment the day before he departed, said Jason Gibbs, the governor's spokesman."
If you believe that the Lieutenant Governor of the state of Vermont waited until the day before his departure to notify his running-mate, the Governor of the State of Vermont, then VDB has some penis-enlargement and Nigerian investment spam we'd like to forward you.
Neither of these men are politically-challenged. Far from it. They are both of them very savvy vote-getters, Jim and Brian. This belatedly high-profile departure was coordinated well before Dubie strapped on his flight gear.
So why is Douglas holding publicly to the "one-day notice" defense?
Because Brian stepped in Dubie, and Uncle Jim wants to keep his own wingtips clean.
This one's not over, folks. Not by a long shot. But sincere kudos to Nancy Remsen for keeping the ball in play.
As Ali G would say, Respek.