September 21st, 2006
Bill Peberdy of Corinth continues his desperate attempts to avoid having lunch with serial-spaghetti-stalker Rich Tarrant. Let's listen in, as we hear Bill say:
Hello VDB,
I wrote you this Spring about being invited by robo-phone to a free lunch at the Hungry Bear in Bradford. I declined politely but firmly. Well, he's still bothering me about that lunch. This time by mail.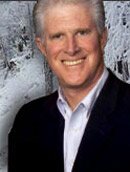 I had called his campaign office a week or two back and asked to be removed from the mailing list. This weekend the mail brought an invitation to a complimentary lunch at the Happy Hour Restaurant in Wells River. (Note: this may be considered by some a step-up from the Hungry Bear in Bradford. This is the subject of some serious debate in my family.)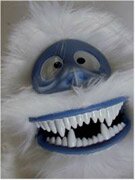 I declined this offer also. My hope is that after the election Mr. Tarrant may want to continue the free lunch program for the homeless or others in need. Also, I would like to very much agree with your early observation that indeed Tarrant's broad aggressive smile is as frightening as The Bumble's [from the Christmas classic Rudolph the Red-Nosed Reindeer]. A difficult image to shake.
Regards,
Bill Peberdy
Corinth, Vermont