October 21st, 2006
At VDB, we've tried this campaign cycle to bring you a quick glimpse of the best of the next generation of political leaders. In Matt Dunne, we saw a comer a long ways back, and so it is proving (see post below, for those flipping their Dubie endorsements to Dunne).
In T.J. Donovan, we saw a guy destined to dust off his primary competition, qualified and well-liked and strongly backed though they both were.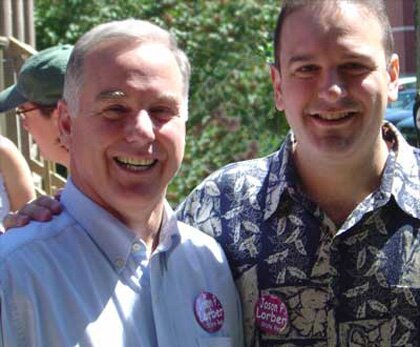 Jason Lorber (Chitt. 3-3) represents Burlington's Old North End, and he is exactly the sort of double threat that always mystifies the competition. A talented stand-up comic — with a weakness for improv — Lorber spent his first term in the House completing one of the most deadly serious projects we can remember: an exhaustive set of interviews — conducted with 53 separate professionals and community stakeholders — on the iffy state of Vermont's correctional system.
That's what VDB calls dues. The corrections report is here, as are details about Lorber's October 29 comedy gig at the Rose Street Coop. Caution: to avoid bumming out, read the report first, and then hit the comedy show, rather than vice versa.
One to watch, Lorber. How come exactly? Take another look at that picture above. That's Dean wearing a Lorber button — not the other way around.