November 20th, 2006
Only hours after the Midterm elections that brought the United States of America out of the Great Dark — when Republicans and Democrats alike were too exhausted to keep their shields in place any longer — James Carville pulled a knife on Howard Dean.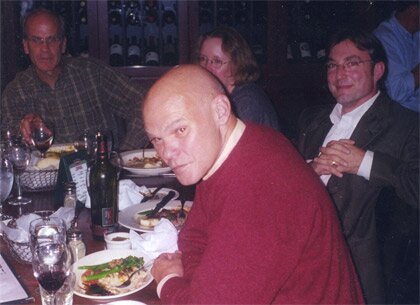 Above: Peter Welch, before he was a Congressman, and James Carville, before he was openly recognized as a jealous, scheming prick.
Interviewed by the New York Times, Carville led the conversation quickly to the poor job Dean had done as head of the Democratic National Committee, and argued strenuously that the Republicans did a "better job than the DNC this year."
Of course. Now, given that it is the job of the DNC and RNC Chairs to win Houses of Congress, the post-election math is fairly easy to run: Dean 2, Mehlman 0.
But Carville was having none of it. He wanted Dean out of that Chair, and someone else — anyone else — in it.
He settled almost at random on Harold Ford, fresh off a stinging loss in the Tennessee Senate Race. Clearly Carville's point had little to do with Harold Ford. His point had to do with Howard Dean, and he wanted very much to stick that point in Dean's external carotid artery.
It was an oddly savage outburst, but quickly tamped down: Dean himself called it "inside the Beltway silliness," and even the DLC's Ed Kilgore labeled it a "really bad idea, at a really bad time."
Within days, the New York Sun was reporting that "the idea of ousting Dr. Dean now seems to be stillborn."
But of course, like any mugging in broad daylight, the Carville incident has raised questions that have occupied the media ever since. Do bald male vulcans experience a violent form of menopause, and if so does hormonal therapy help or hurt?
And this: if Carville had gone the extra mile and physically assaulted Dean — and Dean had ultimately died — could Dean have sued himself posthumously for malpractice?
But no one was asking the larger, more pertinent question, namely: what was the New York Times doing interviewing James Carville in the first place?
And why — when the authors clearly understood Carville's bias going in — were they using Carville almost exclusively to back up their oddly definitive version of events? To wit:
"At a slightly more visible level, strategists agreed that the chief Democratic winners were Senator Charles E. Schumer of New York and Representative Rahm Emanuel of Illinois, the top two engineers of the Democratic takeover of Congress.
"The jury is still out on Howard Dean, the Democratic National Committee chairman."
Which brings us to VDB's Crackpot Theory of the Week.
It's hard to imagine the post-election Carville/Dean story coming together without some strong shared need on the part of James Carville and Anne Kornblut, the journalist behind the New York Times piece.
That point can be broadened without losing its force: Carville's general prominence in the days following the election has much to say about the momentary intersection between his needs and those of the mainstream media.
The best way to summarize that shared need is as follows: Carville needed to remind the world that he is a professional political strategist, and the mainstream media needed to remind the world that they are professional journalists — and for both, credentials are the key to professional status.
Carville and Anne Kornblut share the spotlight as bona fide members of interlocking, complementary professions.
Why the pressing need to stress credentials, for political strategists and media regulars? Because the real wave this election wasn't the Democrats inundating the Republicans.
It was the uncredentialled swamping the credentialled.
Take John Tester's win in Montana. No one saw it coming from farther away than the netroots; no one did more to nurture it, to run interference for this flat-topped seven-fingered hard-scrabble farmer.
Arguably Jerome Armstrong and Markos Moulitsas did more to seat John Tester than Howard Dean, James Carville, Anne Kornblut and Harold Ford combined.
And Dean's 50-State Strategy was mirrored in the work of blogs like Swing State Project, which pushed hard to field progressive candidates in every House district nationwide — a sharp and successful departure from recent practice.
In short, amateur strategists with heart worked hard, bet smart, and won big — not just in Montana but nationwide.
Professionals trained to play it safe, hedge their bets, and guard the status quo lost their collective shirts. And suddenly a new wave of self-appointed strategists and fresh-faced citizen-pundits stood poised to break on the morning of November 8.
Cue the backlash.
Instead of praise for Dean and the netroots the day after the election, we learned from the New York Times that "the jury was still out" on Dean and the 50 State Strategy, the de-centralization of power and wisdom — and by extension, the netroots.
And Tim Russert selected John McCain and Joe Lieberman as his first post-election guests not merely because they were both pro-war — and both willing to throw cold water on this talk of a pull-out — but because Lieberman had beat back Ned Lamont, which is to say the wild-eyed bloggers looking to pull down the walls around us all.
In 1976 Richard Ohmann wrote that professions exist "so that there may be a means of accreditation and advancement for people in the profession, not out of any inner necessity and certainly not out of cultural need or the need of individual teachers."
The internet has borne out Ohmann's basic point with a vengeance. And the internet isn't finished yet.
So we shouldn't be too surprised if the various professional classes close ranks and return that vengeance, dagger for dagger, while they are still able.
[This piece appeared first in The Vermont Guardian.]
Late Update, 1:19 pm:
Friend of VDB Ed writes in with the obvious solution to the Carville enigma:
"Everybody knows that all male Vulcans (bald or not) go though a series of changes every 7 years called the Pon Farr. It even caused Spock to battle Kirk in the top-rated episode 'Amok Time.' If Spock can go after Kirk, then Jim can go after Howard. End of story. The insanity will end soon."
Makes as much sense as anything else.
But correct us if we're wrong: a Vulcan undergoing Pon Farr must breed or go violently insane. There's an implicit choice there.
Ergo, Carville seems to have chosen the lesser of two evils: repeatedly mugging Dean, as opposed to going home to his wife, infamous Republican mouthpiece Mary Matalin.
Live long and prosper, Ed.