November 27th, 2006
Not what you might call an uneventful Thanksgiving holiday, at least Over There.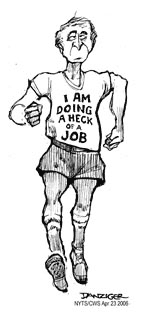 Shia neighborhoods are now shelling Sunni neighborhoods; small battalions are launching attacks against government buildings and then fading abruptly away; the Prime Minister was pelted with rocks; the King of Jordan warned of not one but three civil wars in the region; Iran said that they'd be happy to help America out of "the swamp," if we change our behavior and retreat; and the American mainstream press made a belated decision to cease pretending that all of the above constitutes some sort of relatively quiet prelude to a civil war.
The L.A. Times went way, way out on a limb, and finally admitted what the world has known for the better part of a year: civil war is underway.
And Iraq outpaced World War II, as a Really Freaking Long and Bloody War.
But the image makers at the White House were undeterred.
Taking Thanksgiving as an opportunity rather than a day of political reckoning, they went at the task with their usual brio. To understand their achievement in 2006, the fourth year of the Iraq War, we should look back at some of their best work to date — Thanksgiving 2003.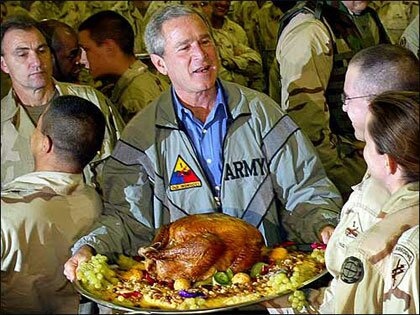 Three years ago, Bush's reality-artists went for a look that was at once militant, and giving; martial, yet kick-back; Commander-in-Chief but with a deft suggestion of Superbowl Party Host around the edges.
Bush's flight into Baghdad Airport was kept extra-double-secret that year, with adoring tick-tock accounts timed for release in the major dailies.
And of course, the turkey was artificial. But we are a nation increasingly comfortable with simulated breasts.
Fast-forward to 2006. The White House image workers confronted an entirely different palette of viewer expectations (see paragraphs 2-4, above). But they came out to play: working under that creative pressure, their final product was in nearly every way superior to the previous 2003 highwater mark.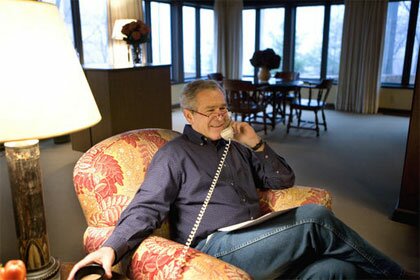 First of all, this little nook of Camp David looks not unlike VDB's mom's house: sensible carpeting, an easy chair, a lamp, and a very modest table beyond — the sort of table dogs sit around to play poker. Middle-class furnishings — if you shroud them in shadow and hide the price tags.
Bush himself sits in the easy chair, dialing troops. Reading glasses, purple shirt, jeans. Taken together, these three elements dial the machismo of 2003 down almost to zero. But not quite: the cup of coffee at hand says readiness.
It's a comforting, familiar style of image, and it takes a moment for the penny to drop: this is a very careful mock-up of the ads AT&T used with such great success during the '80's and 90's.
An aging parent, or grandparent, sits in a darkened room, the gloom lightened by a single lamp — and the telephone. Message: call Mom, or Dad, because they love you, and they worry. The ambient guilt of the atomized American family was put to work for the greater corporate good.
In the White House version, the same soft emotional triggers are at work: the graying President worries about his troops — his children — but hearing their voices on the phone lightens his burden, reaffirms his purpose.
He is no longer alone. His words, and his wisdom, are valued by his children.
In short, the imagists made George W. Bush over into his father — George Herbert Walker Bush — this past Thanksgiving, and it was a thing of beauty.
Like the careful photos of Nixon on the beach at San Clemente — staring remorsefully into the surf in the days leading up to his Pardon — the White House's AT&T Jr./Sr. image will eventually become a benchmark in public relations.
Because it played, baby. It played. And that's saying something, in America, in 2006.