November 28th, 2006
The following makes even more sense — rather than less — after yesterday's Quinnipiac poll showing Giuliani apparently outpacing the field. Still can't get the nomination, still looks like a lock for the VP slot, but still won't even get that. Word.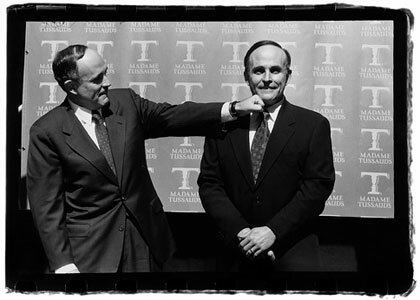 * * * *
A Vice President Is Like A President — Only Emptier
Contrary to popular belief, the first American reality show was not Survivor — itself a Swedish import — but Who Wants to Be President?
Ever since television and politics first cross-pollinated back in the 50's, Americans have enjoyed watching a motley, straggling field of candidates rabbit-punch and dog-pile one another all the way from New Hampshire to California.
Following the conventions, Americans then enjoy watching the two major nominees pummel and back-stab their way back across the fruited plains.
And finally, of course, viewers taste the ultimate sweet: watching one man ascend to the Presidency, while his opponent is denounced, vilified, consumed, and eventually excreted from the body politic.
To lose is to sin, in America, and we don't abide sinners.
Like any smash television series, Who Wants To Be President? quickly generated a sequel: Who The Hell Would Want To Be Vice-President?
A lot of folks, it turns out.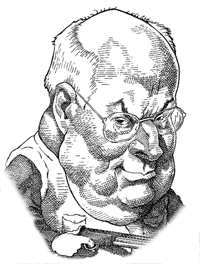 Originally, the Vice Presidency was a commodity for which unsavory people traded in smoky back-rooms; only at the last moment, during the nominating convention itself, would members of a party be introduced to their new Vice Presidential nominee.
And this method had its proponents. Machine bosses favored it, as did other well-connected types with defects that made actual campaigning difficult: the ugly, the short, the ethically challenged.
But very quickly television made its needs known.
Having bonded with more than one candidate during the course of the primary season, Americans began to demand the satisfaction of selecting a runner-up as well. Take George H. W. Bush. After running hard against Ronald Reagan — deriding his economic world-view as "voodoo economics" — Bush found a tender place in the hearts of millions of Americans who also thought Reagan was substantially full of shit.
And so when Reagan won the nomination, he selected as Vice Presidential nominee the very man who had pointed out his essential dishonesty to the world.
And the world applauded.
On the other hand, take George H. W. Bush's own selection of Dan Quayle in 1988. After faithfully watching Who Wants To Be President? for month after month, Americans were disturbed and then outraged when Bush hauled out an unknown family friend at the last moment, a guy who looked young enough to be your paperboy, but too dumb to find the front porch.
The Bush/Quayle team sneaked into office, but at a heavy cost: Quayle had to come along too.
Fast-forward to Kerry's 2004 pick: John Edwards. This race, and Edwards's eventual selection, brought Who The Hell Would Want To Be Vice President? to its highest and most mature expression.
Edwards had next to no foreign policy experience; he was only midway through his first term in the US Senate. But he seemed genetically designed for the Vice Presidency: boyish good-looks, telegenic offspring and a Southern accent well over two inches thick.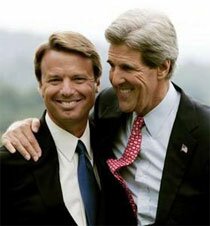 Like some precisely Photoshopped compilation of John F. Kennedy and Jimmy Carter, Edwards brought to the race an odd sense of déjà vu, and he was clearly gunning for the number two spot from the outset.
His style of campaigning seemed disastrously risk-averse — Edwards refused to pull the trigger on his negative ads in the South — until it became clear that he viewed Kerry, for instance, as his most likely ticket to D.C.
Which brings us to the present moment, when the reality sequel has outperformed the original — that is, when we have more wannabee Republican Vice Presidents than Presidents in the field.
And we have this cattle-call of potential Vices out earlier than ever before, for a very simple reason: it's never too soon to begin building your audience.
In no particular order, then:
1) Rudy Giuliani — A physically small man possessed of both a lisp and a comb-over, Rudy Giuliani is in almost every way the sort of candidate Republican primary voters have been raised to hate: he is pro-Choice, pro-gay rights, notoriously litigious, divorced twice (once from a cousin), and known for cross-dressing at fund-raisers and other assorted holiday pageants.

Which wouldn't be so bad if YouTube weren't carrying video of the guy engaging in very bizarre transvestite foreplay with — wait for it — the Donald Himself.
if you must.
Rudy will not merely get beaten, but pureed in the GOP primaries, and he knows this well.
He also knows that once McCain or Brownback have prevailed by running hard right, a New York Mayor with a 9/11 halo will look pretty tasty

— even in an evening gown.
Advantage: Giuliani.
2) Mitt Romney — Originally known as The Man Who Saved the Olympics From Itself, Romney is now known as the guy who leaves the Governor's office in Massachusetts, flies to Alabama, and talks smack about his state to any Chamber of Commerce or Rotary willing to listen.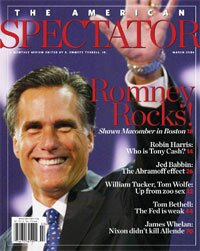 Tall, buff, with a smile like a searchlight, Romney has a unique and paradoxical problem within the GOP: Protestant fundamentalists may find his references to religion unsettling.
Romney is a Mormon, see, and the Republican Party has never nominated a non-Protestant. Still, like Guiliani, Romney clearly has his eye on Air Force Two.
Will McCain see his way clear to selecting Romney, who would then inject the religious issue into the General Election,

spooking Democrats and more secular Independents?
Advantage: Giuliani.
3) Tommy Thompson — Elected Governor of Wisconsin four times in a row, and with one stint as director of Health and Human Services under Bush, Sr. to his credit, Tommy Thompson is almost unbelievably ugly.

The lens despises him.
Advantage: Giuliani.
All of which leads to one inescapable conclusion, looking ahead to 2008: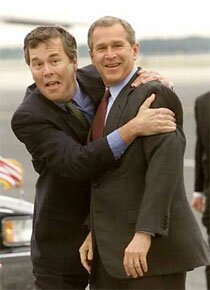 on the GOP side, it's John McCain by acclamation.
And yes, he taps Jeb Bush at the last moment to stand tall and burly and smug by his side.
Because long before reality television, there was Dynasty, and for all of our talk about popular democracy and equality and the rule of law, deep down this nation still longs somehow for nobility, for beautiful families of kings and queens and princes.
And as a result, we generally get what we deserve. VDB loves America.
[This piece appeared first in The Vermont Guardian.]