December 27th, 2006
Clearly Obama's boomlet has only days in which to finish booming: the muckrakers at the Chicago Sun-Times have found a second Rezko connection, this even more sordid and unethical and Chicago-landish than the first.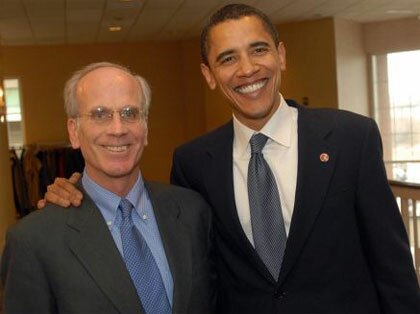 Which wasn't too tough, given that the first Rezko scandal concerned the mowing of grass.
The dreaded Apparently Obama took on an unpaid intern at Rezko's recommendation, and that friend of a friend worked in Obama's office for "about a month."
We know — we too found it hard to square with our general impression of Obama, that he was fairly open, honest, and above board.
And the Lord knows that there are a lot of things VDB will accept in a Presidential candidate — draft-dodging, philandering, the blatant waste and environmental implications of not inhaling.
But we cannot and will not tolerate a man who would hook up a friend's kid with a fat job paying a cool $00.00 a year, for the cushy span of 30 days.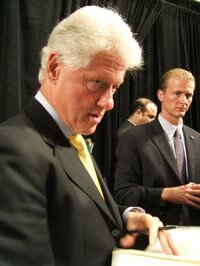 (Well, minus the weekends. But still, call it 22 or even 23 days fattening on the public teat. Except for there was no milk. But still. It's unconscionable.)
All irony aside, can we all just very quickly cut to the chase here? This story — like the first Rezko teaser — has media legs for one very obvious reason: Adding "real estate scandal" to "intern scandal" equals "Bill Clinton" in the minds of reporters, pundits and voters.
In other words, if every story between now and Primary Day includes those two phrases, Obama's charismatic touch with crowds will be re-framed as grade-A Clintonian bamboozlement, as self-serving, narcissistic seduction. [Photo: C. Resmer]
Just wait. Within a few weeks we should get the first round of Time and Newsweek stories, hinting that Hillary has her work cut out for her because — that's right — she's essentially running against a younger, better-looking incarnation of her own husband.
And if you follow that line out, it doesn't take you long to see that Obama will eventually have to face the unapologetically racist meme that took down Harold Ford: Obama is charismatic, therefore sexy, therefore sexually predatory, therefore a threat to what are usually referred to as "traditional values."
Arkansas, Chicago. Two ethical swamps. Clinton, Obama. Two ethically-challenged swamp things. And they've come for your women.
Coming soon to a meme near you.