February 5th, 2007
When I was little, my mother used to say that whenever God closed a door, He opened a window. Which always seemed odd to me, because opening the window will pretty much defeat the purpose of closing the door, in nine cases out of ten.

And if you're God, what are you doing with doors and windows in the first place? Somebody's going to bust into God's crib? Somebody's going to boost God's DVD player? He's cold? What?
And whether it's open or closed, isn't God really always already on both sides of the window, when you think about it?
Eventually I turned six, and I got it: it's another way of saying not just that often good news seems to follow on the heels of bad, but that there's someone up there in the sky making sure of it, each and every minute of every day.
It was a comforting thought.
Never have I come closer to truly believing in this notion than I did last week, when I read the horrible news that Al Franken was leaving Air America radio.
And then read almost immediately thereafter that Franken was leaving to actively explore the possibility of challenging the simultaneously pugnacious and ineffectual Norm Coleman for his seat in the US Senate.
And then read a third story about Coleman knocking himself unconscious while dumpster-diving.
That's right: dumpster-diving.
I mean, seriously: thanks for the window, God.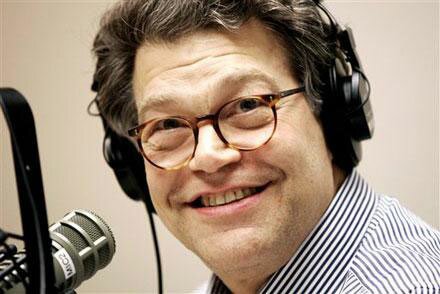 Oy Oy Oy! Franken Pulls The Switch
The news of Franken's departure came as a surprise only to those who haven't been watching the guy wink and nod for the last year and a half. But his mission to humble Norm Coleman goes back even further than that.
Franken was quite close to Senator Paul Wellstone, the Minnesota progressive icon, who held Coleman's seat before his death in a plane crash in 2002. And it's no secret that Franken despised the tactics deployed by Coleman's campaign, which included making a political issue of Wellstone's funeral itself.
Of course since arriving in Washington, Coleman has given potential challengers plenty of goading: he's made a name for himself as a reliable basher of the UN, not to mention distinguishing himself during the Katrina hearings as the only member of Congress ever to lose a mano a mano encounter with disgraced Arabian Horse flunky Michael Brown.

And so Franken began stepping up to the plate, an inch at a time.
He moved both his Air America program and his personal residence to Minnesota from New York. Around the same time, he recalibrated his radio format to make it dovetail more neatly with a high-stakes Senate run.
Moving away from the sort of hard-edged politics and broad humor (e.g. "The Oy Oy Oy Show") that marked its debut, The Al Franken Show slowly and methodically morphed into something more like a talk show, Charlie Rose with jokes.
Franken pressed the issues harder, broadcasting from contested Minnesota districts and distributing campaign funds from his own political action committee, Midwest Values PAC.
And a quick glance at the records of that PAC will tell you all you need to know about 1) how much money Franken is capable of raising out of Hollywood, and 2) how insanely funny this race has the potential to become.
Be still my foolish heart: Lorne Michaels, Barry Levinson, and Harold Ramis, together, backing one long shot bid for Senate? The creators of Saturday Night Live, Diner and Ground Hog Day all back the same sketch comedian, and somehow this isn't going to be gut-bustingly funny?
Of Hookers and Dumpsters
And Coleman and his family have gone out of their way to provide the raw material.

For instance, during his Senate campaign Coleman was fond of referring to his 81-year-old father when waxing lyrical about the grit of the Greatest Generation. Then the elder Coleman was caught last July having sex with a 38-year-old hooker in a car parked outside a run-down pizzeria on the outskirts of St. Paul.
Gritty, indeed.
When questioned about his father's arrest, Norm Coleman said he was "disturbed" by the news. And who wasn't, really?
Still, not to be outdone by the old man, Senator Coleman himself was reportedly "knocked unconscious" this past week while diving in a dumpster near his house in St. Paul. His wife Laurie had apparently thrown an antique lamp in the huge metal bin, and when he realized her mistake, Coleman took matters into his own hands.
The result? A prominent gash across his forehead from an impact that made him "see stars."
Now, don't get me wrong. It's not the fact that Coleman was dumpster-diving that disqualifies him for re-election; I've been upside down in a few myself, over the years, and so have most of the members of the US Senate, I'd be willing to bet.
No, the issue is incompetence. How hard is it to stick your head in a huge empty stinking metal bin, and come out relatively unscathed?
In short, Coleman is a man with a marked history of losing to push-overs (Michael Brown, dumpsters, etc.), and Al Franken is no push-over. So Coleman has already lapsed into a predictable fall-back posture: that Franken isn't real Minnesota, despite having grown up in St. Louis Park.
"Hollywood values aren't Midwest, and the money isn't Midwest," Coleman is already arguing.
Dream on, Norm.
Here's your future, my friend: first you become the butt of every late night comic in America, then you lose your Senate seat, initiating a long, bleak spiral of self-loathing, and before long, you're cruising chicks and downing 40's with the old man, outside a run-down Caesar's Pizza on the wrong side of St. Cloud.
[This piece ran first in The Vermont Guardian.]
First of Many Updates, 9:10 am:
If anyone anywhere is still uncertain as to why Franken's candidacy is an unquestionably good thing, this morning's Post is a prime example.
In the course of a ho-hum summary of anti-Surge legislation, Post reporters go to key GOP players: Trent Lott, Mitch McConnell, John McCain. And then they go to the endangered types, like Sununu of New Hampshire, who knows damn well that the folks back home are simmering, and Coleman of Minnesota.
And then, just like in my dreams, they cut to Al Franken, who goes on to deliver the article's most devastating bite.
Win or lose in 08, Franken's got that soapbox for the next two years. And VDB is loving it.