February 20th, 2007
There's only one decent analogy for Joe Lieberman's position with respect to the Democratic Party, circa 2007: he is, of course, Glenn Close in Fatal Attraction (1987), and we are Michael Douglas.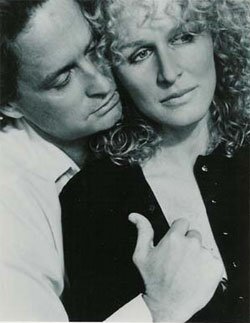 After a brief fling in 1992, Lieberman has taken recently to taunting and attacking us, seemingly at random, disturbing our sudden, tentative sense of domestic security.
If we ignore him, he will target and destroy everything we hold dear.
If we confront him, he will target and destroy everything we hold dear.
He prowls around our House at night. And our Senate. Peering in the windows, envying us our happiness and family ties. We can't even speak about this nightmare in public.
If we do, he'll boil our bunny.
And yet there's no denying that the whole affair is partially our own fault. It's a bargain born of weakness, and sealed in blood. But it wasn't always this way.
No, back in early August, when Lieberman lost the Democratic nod to the anti-War upstart Lamont, Big Joe was in a world of hurt. His instincts told him to push hard behind Bush's policies in Iraq, for that way lay the Grand Vision: the 2008 VP slot on a McCain/Lieberman pro-War Unity ticket.
But his political experience told him that he simply couldn't win re-election without co-opting most of Lamont's position on Iraq.
Big Joe's solution, then? To declare himself against both an "open-ended commitment" of troops to the Iraq conflict and a "timetable for withdrawal."
It was bold and breathtaking and impossible: by definition, actively opposing a schedule or timetable for redeployment makes one inarguably a supporter of an indefinite deployment.
In standard English usage, "Open-ended" means "lacking a fixed end point."
Yet, Lieberman would stand in front of Connecticut voters ten or fifteen times a day and swear up and down that both of these mutually-exclusive principles were part of his unshakeable moral core.
And so was born a contradiction in reason so seminal that it has given its name to an entire branch of symbolic thought: Problems in Liebermaniacal Illogic (LI). And as with any new conceptual framework, once it's used somewhere, it's suddenly everywhere.
Case in point: the early 2008 Primary Season. And the horrible things they're saying about Barack Obama, who announced his candidacy last week — a great speech, perfectly staged.
Except, of course, for the audible sound of knives being sharpened in the distance.
Problems in Liebermaniacal Illogic (LI):
The Obama Case Study

Not every news outlet has the potential for duplicating Lieberman's complicated and obscure thought processes. But some immediately outpace the field: Fox News, for instance, has had stand-out success in hiring anchors and hosts with the extreme mental flexibility necessary to handle advanced LI scenarios.
Take Fox News coverage of Barack Obama, for instance. Their early Obama narrative — created through deliberately mislabeled images, damning discussion topics and outright lies — was that he was Too Black.
Too Black as in a Muslim, schooled in a radical Indonesian madrassa, and possessed (like Muhammad Ali) of a name that doubles as a dead ideological give-away: Barack Hussein Obama.
And to their credit, when all of the above was debunked, Fox kept on plugging.
Okay, fine, they argued, so Obama is not a Muslim; fine, Obama is a Christian. But isn't his particular Southside Chicago church, the Trinity United Church of Christ, really a little bit — wait for it — Too Black? Here Fox argues that Trinity United's "disavowal of the pursuit of middleclassness" smacks of separatism and early Black Panther rallies.
Granted, Fox shows some minor argumentative creativity here, but it wasn't until the Too Black narrative had all but run its course that they entered the rarified realm of LI: Fox began to argue, even as it was flogging the Too Black story, that Obama was clearly Not Black Enough.
Predictably, it took mental gymnast Glenn Beck to stick the final illogical dismount here.
After asserting that Obama was in fact "very white in many ways," Beck added, "Gee, can I even say that? Can I even say that without somebody else starting a campaign saying, 'What does he mean, [Obama]'s very white?' He is. He's very white."
Then, to make sure there was no lingering doubt as to Obama's essential lack of pigmentation, Beck did a bit of follow-up after the segment with his producer, managing an astonishing three or four formulations of the same point: Obama is "colorless," he maintained, adding that "as a white guy … [y]ou don't notice that he's black. So he might as well be white, you know what I mean?"
In a word, no.
In the Fox world, Barack Obama is both dangerously activist, and an abject sell-out to the Caucasian mainstream; a Black Power advocate with deep-cover terrorist training, and a contemptible Uncle Tom who will sell out his people in a heartbeat for the price of an Ipod Nano and a few gigabytes of Barry Manilow tunes.
So there you have it: Fox News has come tantalizingly near Lieberman's own level of contradictory, mutually exclusive argumentation. They haven't quite matched the work of the master, but that wasn't to be expected.
Because Big Joe's mind can bend like no other.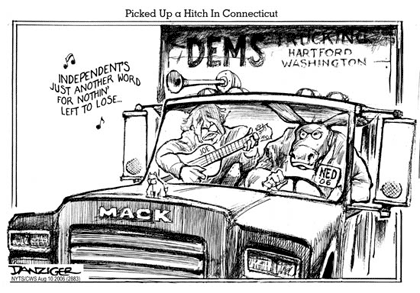 Officially a Senator from the "Connecticut for Lieberman" party, Lieberman recently announced that while he caucuses with the Democrats, their efforts on the Iraq War do undercut the troops and impede the War on Terror, and therefore he would certainly be open to voting for a Republican come 2008.
All of which has a way of making you long for someone a little more stable and a wee bit less schizophrenic. Like Glenn Close, to take just one example.
[This piece ran first in The Vermont Guardian.]