March 23rd, 2007
A brief post today: we have to hit the road for the weekend, to parts unknown. But there's plenty of weighty matter already up for your consideration.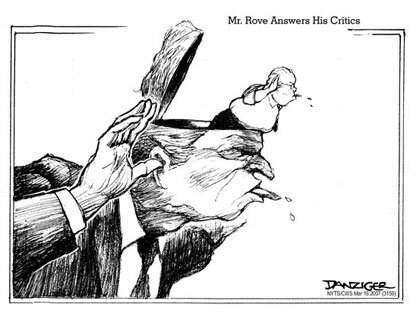 To wit:
1) If you've yet to wade through the long sit-down with Senate President Pro Tem Peter Shumlin, it's perfect for a lazy Saturday afternoon. In it, Shumlin pulls very few punches, and you get a clear picture of what the 2008 Governor's race will look like, no matter who challenges Douglas.
2) See the post below for the double Barack Obama challenges, timed to coincide with the national campaign's Community Kick-off on March 31st. If you've yet to link arms with us, now's the time: we have just a week left.
3) This week's column in the Vermont Guardian picks up on the very special news about Martha Rainville: She's going to punch the clock at FEMA. Special, as we say. It's called "There Is No Joy in Rainville," and it's up on the Guardian site now for subscribers.
Many thanks to everyone down in Brattleboro, and to the men of WKVT, for the fine hospitality yesterday. Truly a toddlin' town.
And of course, God Bless Senator Patrick Leahy.