March 26th, 2007
There was a time when John McCain was Martha Rainville's secret weapon, and people on the Welch team were nervous, palpably nervous. This was back at the tail end of July, 2006.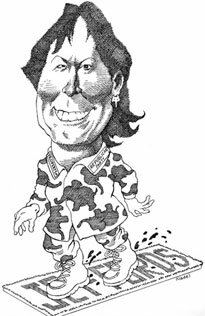 McCain was due to touch down in Rutland, where he would be met by candidate Rainville, and then they would very publicly put their heads together and figure out how two independent types like themselves could clean up the mess over in the Congress.
It was a desperately needed shot of independence by association: Rainville was already sinking in the polls, deeper every day she refused to condemn the President's handling of the War, refused to jettison Donald Rumsfeld, refused to name names when speaking of Congressional corruption.
But of course, McCain's plane never landed.
He turned back in the face of stormy weather, in which some might see a ready-made neon symbol of the new John McCain, circa 2007.
Still, the Rainvillians were not to be deterred, and they eventually managed to shoot an ad featuring the one-time star of the Straight-Talk Express.
The spot was meant to be The Big One, the 15,000-pound daisy-cutter in Rainville's media arsenal.
It came to be known by a simple one-word title: "Tough."
And if you want to truly appreciate the Rainville news released last week — that Martha is finalizing a position working for George Bush at FEMA — you need to read the article in the Boston Globe, then watch the of "Tough," and then read the Boston Globe article a second time.
But to save time, here are the bones of the script.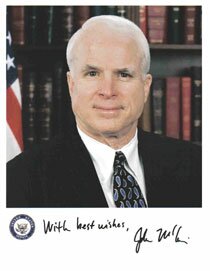 We open on John McCain sitting in a high-backed chair, behind a weighty desk. His blue suit is crisp and Presidential; the flag just to his right, and the wall of books behind him, suggest the Oval Office, as decorated by a President who could read. Beneath McCain the words "Senator John McCain" appear.
McCain: "Most Americans are disgusted by politics in Washington. The two parties attack each other, and nothing gets done. It takes a tough person to be independent."
On the word "independent," the scene switches smoothly: Martha Rainville sits at a longer wooden conference table, ticking off points to others seated around her. She wears a no-nonsense black pant-suit, and just off to her right stands another flag — unless, of course, we're to infer that Rainville is tough enough to steal McCain's.
The scene switches again to an airplane hangar reading, "Green Mountain Boys," quickly replaced by a shot of soldiers in khaki walking out of the belly of a plane, into a hot desert sun.
McCain: (Voice Over): "Martha Rainville proved her independence when she stood up for the Green Mountain Boys on the eve of their deployment to Afghanistan."
And now, in rapid succession, we return to McCain lecturing us from the armchair, and a shot of Rainville in camouflage, sleeves rolled, hair tousled by the wind. An immense flag is superimposed upon the background. We close on a shot of Martha in a kayak of some sort, water glittering behind her profile. The flag just to her right has sunk, apparently.
McCain: "Elect Martha Rainville, and she'll work with us, to reform Congress and get things done. She'll make Vermont proud, and America better."

Now, in all honesty, the ad was always more than a bit silly. Martha Rainville never "stood up for her Green Mountain Boys," not in any memorable way. She made routine requests for equipment and supplies and armor just like every other AG in the nation.
And she refused nearly every chance she was ever offered to criticize the man most responsible for long deployments, stop-loss, and chronically under-armored humvees — Donald Henry Rumsfeld.
But you also have to love McCain's penultimate line: "Elect Martha Rainville, and she'll work with us, to reform Congress and get things done." Whoever wrote the line was a true master of obfuscation.
The word "us" is meant to suggest McCain and those of his gritty, reform-minded stamp, yet still whisper ever so softly that Rainville will be better positioned to accomplish things in DC because Republicans will retain their majority.
And of course, in that sense the line was always describing a vicious circle: send Rainville to Congress, so that the we the GOP can retain our majority, so that we'll have the power to clean up corruption, a power we will make certain never to use.
But last week's Rainville/FEMA announcement has rendered the "Tough" ad even more laughable.
After spending hundreds of thousands of dollars — the majority of it provided by the NRCC — on a campaign to forcibly separate herself from the Bush Administration in the minds of voters, after arguing endlessly that she was temperamentally more suited to function as a critic than a good soldier, Rainville will now punch the clock at FEMA, an agency globally recognized as the pre-eminent parking ground for Bush loyalists, hacks, and those with less than marketable experience on the Arabian Horse circuit.
The Boston Globe piece ends with this cute little teaser: "Although the temporary job leaves her open for future political campaigns, Rainville said she is considering a number of options and was trying not to look that far ahead."
Of course, future political campaigns.
After all, look at what a day job in the Bush Administration did for rising star Christie Todd Whitman, another biddable New England moderate.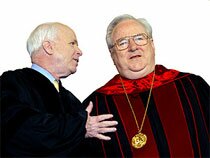 VDB can see it now, in 2008: the rematch with Welch, and a killer 30-second Rainville ad called "FEMA."
We open, of course, on John McCain wearing a crisp white Liberty University T-shirt.
[This piece ran first in the Vermont Guardian.]