March 28th, 2007
Maybe this has been discussed elsewhere, but if it has, it's escaped VDB's notice: the firings of the Gonzales 8 were timed for December 7, the anniversary of history's most infamous sneak attack, at least pre-9/11.
That's right: Pearl Harbor.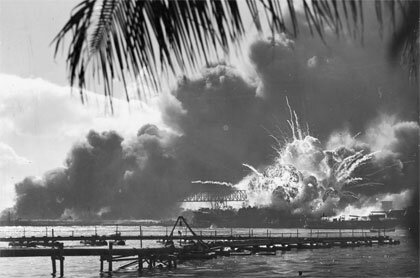 Now, once you get into the weeds of this scandal, you see that these firings were not the work of a casual moment. It was February 2005 when the idea was first floated in the White House, and more than a year and half elapsed between that point and the actual terminations. (TPM has an extremely useful tick-tock of the scandal here.)
Much thought, much time, much strategy went into this power grab. It was clearly designed to dovetail with Rove's plans for 2008, as well as hinder more than one ongoing corruption probe. All of that suggests deep consideration.
And the December 7 execution date was sheer coincidence?
More than likely, the anniversary played as something like a very, very inside joke at the highest levels of the White House, the RNC, and the Department of Justice. It gave the operation a theme, as it were.
And more than anything, it has the signature stink of Karl Rove, for whom government has never been much more than College Republican pranksterism writ large.
And VDB will bet you a slice of pizza that when all the documents have been ignominiously dumped, this nasty little joke will come to light. Of course, by then Alberto Gonzales will be running a two-bit bail-bonds operation out in Corpus Christi, wondering how it all went wrong.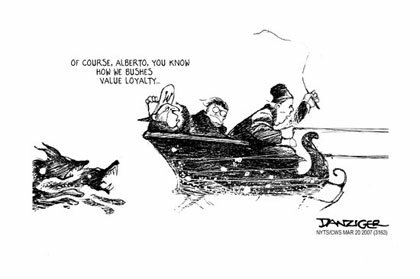 But it will still be sweet. Very sweet indeed.