March 29th, 2007
First things first: Poet Ian McMillan — a rather patronizing and snooty chap from the Guardian (UK) — has just published a review of two poems Obama wrote when he was 19, for a student literary magazine.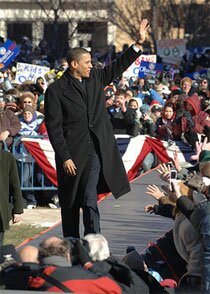 The review is called "The Lyrical Democrat."
McMillan sniffs the stanzas over and, surprisingly enough, finds them wanting.
His review is notable, of course, for one other feature: he manages to convert a typographical error into the image of Obama hitting his grandfather in the face with his penis.
No, VDB is not joking.
Whatever the Obama campaign may or may not accomplish on its own, it will certainly go down in history for the bizarre interpretive gymnastics it has inspired in its detractors.
Which is more than enough said about that.
As regular readers will remember, VDB has been deeply engaged in the good work of Vermonters for Obama (V4O) for the last four months or so.
And when the national Obama campaign announced their March 31st push — a day built around thousands of individual house parties across America — we decided to take it up a notch ourselves.
Vermonters for Obama threw down two challenges, both timed to coincide with the March 31st fundraising deadline:
1) To grow our V4O membership from 60 to 120, or even 150 if the Great Spirit so wills;
2) To encourage as many folks as possible to hold house parties for the Community Kick-off, with a goal of 20 statewide.
And the results have been strong, thus far: membership in V4O has grown to just under 100, and at last count there were 14 parties listed through the Obama web site.
If you're a friend of VDB, and you like Obama enough to hear more at this point, and you've yet to link arms electronically, go to the Obama '08 website and make it right.
It's unbelievably easy. Go here: Once there, you'll be able to click to sign up and create a profile.
Then you can search by Zip to find Vermonters for Obama, or go directly to:
On this actual group page, you just need to click the "Join Group" button in the upper left under the group name to add yourself (and to boost our group number), and then click to find our group, V4O.
You'll find all this Saturday's Vermont parties listed as well. We'll be in Buell's Gore for something tentatively called "Barack the Gore."
Which has a nice ring to it, when you think about it.
[Hat tip to VDB's Canadian correspondent Paul Martin, for the BBC tip. No, not that Paul Martin.]