March 30th, 2007
Mitt Romney kicked off the Vice Presidential pandering contest yesterday, naming several Southerners as A#1 Prime contenders for the second slot on a Romney ticket.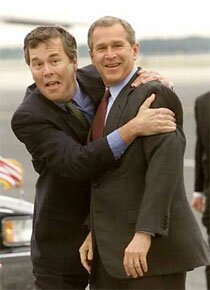 Prominent among the names, as VDB predicted well over a year ago, was Jeb Bush. And if you think that McCain's going to be able to get away without kissing this particular ring, you are, in a word, nuts.
Yes: Johnny Mac and Jeb. The buddy movie to end all buddy movies.
But VDB's favorite part of Mitt's impromptu riffing on potential VPs?
The wicked backhand he offers the Decider:
"I have to be honest with you, I haven't given a lot of thought to that, so I don't want to put any names in that hat right now," Romney said.
But he did say Bush was "quite a guy."
"I love him. If his name weren't Bush, he'd be running for president, I'm convinced," said Romney, who added he also was "pretty partial" to South Carolina Sen. Jim DeMint.
If his name weren't Bush. Indeed.