April 19th, 2007
Anyone paying any attention to the Vermont political landscape over the last week knows that one story dwarfs all others: the strange, shape-shifting tactics of Senate President Peter Shumlin. And nowhere has this behavior been more puzzling than on the issue of impeachment.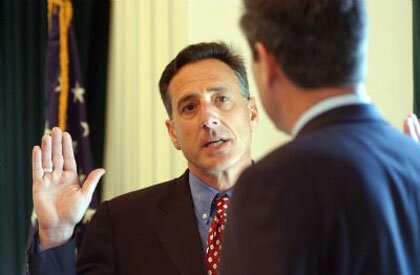 Hence this week's column in the Vermont Guardian: "Impeachment: Shumlin Shoots Self in Foot, Then Reloads."
The piece is up now at the Guardian's site. If you're not currently a subscriber, no time like the present. Because this is, after all, America. Why wait?
Late Update, Friday, April 20, 10:51 pm:

The shape-shifting goes on: Shumlin apparently moved the impeachment resolution this morning, and it passed 16-9 in the Senate. Shumlin introduced the measure personally, with Jeanette White.
Credit where credit is due: the man knew this was the only way to make it right, and he did so. Res ipsa loquitor.