May 5th, 2007
Writing at the moment from an undisclosed location out on the tip of Long Island. Let's just say that it's Giuliani Country, and leave it at that. Hence the spotty blogging today. But rather than leave the afternoon an entirely blank space, here are two quick notes, both of which are well worth noting: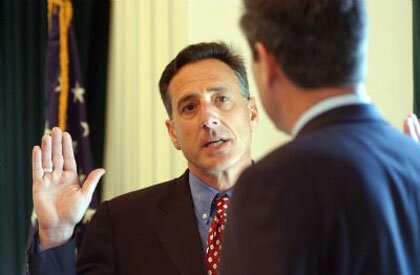 1) With the end-game underway in Montpelier, Senate President Peter Shumlin's positions on certain key issues are undergoing greater scrutiny. Where is Shumlin on Vermont Yankee, and why exactly? Hands-free cell phones for adult vehicle operators? If you've yet to wade through our long interview with Shumlin on the sideboard, it might make useful weekend reading, because Shumlin discusses these and many other issues with surprising bluntness and clarity. The link is here, to make it even easier.
2) When John Odum stepped away from Green Mountain Daily some weeks back, it seemed like one of two things was almost certain: either the site would slowly slip in quality, and then fold unceremoniously, as have many others over the last few years, or the site's other bloggers would step up, and the site would surge.
Surge in an entirely non-Bushian sense, that is.
And surge it has, as regular readers of GMD know already. Brattlerouser, Jack, JD, Nanuq, Ed, Neil, Mataliandy, and Kagro X have combined to realize the promise in all group-run sites: consistently thoughtful posts, coming one after another, with individuals standing up as others stand down.
And when Odum began to blog again as well, the site became unbeatable. (Currently, John's got an all-points bulletin out for activist pressure to m0ve the climate change bill languishing in the Legislature.) A fine way to force your mind into gear each morning: provocative, multi-vocal, and passionate. Full props to all.