June 25th, 2007
We joke around a lot here at VDB. In fact, some people feel that we joke around too much: people like Paul Wolfowitz, and Dick Cheney, and Rich Tarrant and Martha Rainville and yes, the evil beetle-browed Rick Santorum and his entire frightening clutch of children.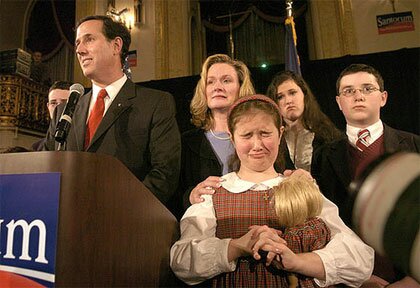 But sometimes it's time to be serious, and this is one of those times. The online polls for Seven Days 2007 Daysie Awards close at 5 pm today, a little under six hours from now.
We asked a few weeks back for your nod in the Political Blog category, but for some reason you haven't voted yet. And sure, we understand: we blow stuff off too, lots of stuff, everyday.
Some days we devote entirely to blowing stuff off.
Seriously.
But if you have a minute, and you like this site for whatever reason — the satire, the cartoons, long sit-downs with interesting politicos, the breaking news — please vote.
The link to the rules and the ballot is here.
Just two tricks to it: you have to vote in at least 23 categories, and you have to use our URL (vermontdailybriefing.com) for the ballot to count.
Why go to the effort? Why deal with the pressure? A couple of reasons, but here's one especially good one: every night, while you sleep, we're banging on the Bush Administration with all of our might. All day, and all night, 24/7/52. And we don't get paid a dime, either. VDB is purely a labor of love.
And it's always brilliant when love is a two-way street.