August 23rd, 2007
The Ministry of Truth, Winston Smith's employer in Orwell's 1984, is engaged on a daily basis in the dirtiest, most necessary work of totalitarianism: altering the historical record to bring yesterday's facts into line with today's official story.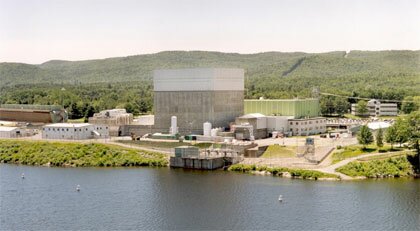 Only through an assiduous editing of history can Eurasia become Eastasia, and vice versa.
Fortunately for you and I, in the early days of the twenty-first century, facts and histories and documentation can still be pesky things.
Case in point: Vermont Yankee's decision yesterday to reduce power output by 50%, after staff found significant problems in one of the cooling towers at the facility — problems that may well have been worsened by VY's recent power upgrade.
An NRC spokesman described the problems like so: "I don't know if I'd characterize it as rotting, but more sagging, deformation in some of the wood."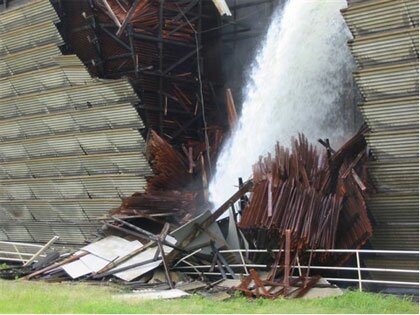 Indeed. [Photo courtesy of The New England Coalition]
So where does the historical record come back to bite Yankee in the ass? Here is Arnie Gundersen, former nuclear industry engineer and now one of the industry's most outspoken critics, testifying before the Public Service Board in July, 2004: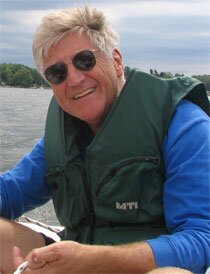 Based upon my review of the discovery material, the history of Ecodyne "wounded knee" designs, and the failure of Ecodyne cells due to the imbalance of a single fan, it is my opinion that there may be unintended consequences to an asymmetrical loading of the entire structure when one fan has a different horsepower rating than the others in the same series of cells.
Therefore, I remain concerned that the reliability of the existing towers will be significantly compromised by the modifications that have been proposed for Vermont Yankee's cooling towers. In my opinion, the board should require structural certification by an Independent Professional Engineer of Vermont Yankee's towers to assure that Ecodyne's "wounded knee" design will withstand the additional horsepower increase in the fans and the asymmetrical load cause by the one dissimilar fan.
We've said it before and we'll no doubt say it again: "Arnie Gundersen knows from whence he speaks. He is not some crank with an irrational fear of nuclear energy. Rather, he is a highly skilled watchdog, whose views the State should begin actively soliciting rather than fighting or disparaging."
Sagging, deformed wood? And this dinosaur got greenlighted to ramp up its power output with nary a murmur from state officials?
We smell a campaign issue here, one that will grow more potent as we count down to 2012 and relicensing. And those who don't lead on the issue may very well find their own poll numbers — that's right — sagging and deformed.
Because there's one thing we know here at VDB, and that's words.
And the word "deformed" never, ever polls well, no matter what the noun under discussion.