September 21st, 2007
The fall of the Vermont Guardian this past spring was a bleak turn of events. Bleak and winter-shadowed.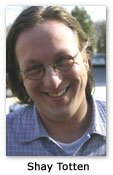 Editor Shay Totten had managed, by dint of hard work and sweat equity, to occupy a crucial niche in Vermont's media landscape: the Guardian wrote up stories on a daily basis that larger papers were willing to cover, but not break. Crucial, especially during the extraordinarily active 2006 election cycle, when those larger outlets were often extraordinarily cautious.
But this week, Shay rises from the ashes of the Guardian with a very intriguing project indeed: he's teamed with Vermont Public Television's Vermont This Week to produce a monthly political column, which he'll supplement with regular appearances on VTW.

All of which looks like a win-win-win, for VPT, Totten, and you and me. The first piece is here, and well worth a read. And you can catch Shay on VPT tonight at 7:30.
Only thing not to love about this venture? The almost criminal pun in the title of the column. VDB may well need a good month to recover from that.