December 20th, 2007
Tough to see how you improve on perfection, but John McCain's strategists have done it. In the wake of the Lieberman endorsement, which all but guarantees the full-throated support of the Connecticut for Lieberman Party, they've put together another boffo announcement.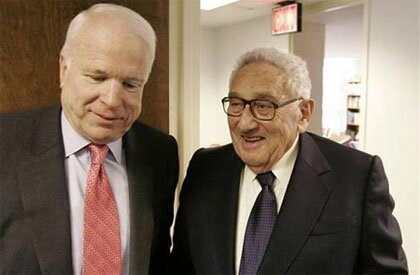 Yes, McCain has won the support of Henry Kissinger, which should allow him to cut heavily into the ranks of registered Zombie/Walking Undead Party voters.
What sort of candidate offers the nation Big Joe, Bloody Henry and The Surge as their visionary trifecta?
The New Bob Dole, indeed.
McCain somehow found the time at the Kissinger announcement to address the future of the nuclear industry, as well. "We have to go back to nuclear power . . . . It's clean and it does reduce greenhouse gases."
So it's not a trifecta. It's the Pick-Four of Death.
Which is everything VDB has been praying for in a candidate, really: increased troop presence in Iraq, the word of a couple of doddering old warmongers, and the Vermont Yankee nuclear facility replicated a thousand times over across the American heartland.
Sell VDB's shoes, because the McCain camp is taking us straight to Heaven.
Unless Huckabee gets us there first, of course.