May 26th, 2008
What if we told you that when all was said and done — after months of strategizing, after tutorials on the delegate process, after candidate forums in all corners of Vermont, and after an unprecedented GOTV effort involving hundreds of die-hard VDB readers — what if we told you that the most hotly contested National Delegate contest in memory would hinge on a donkey's lack of opposable thumbs?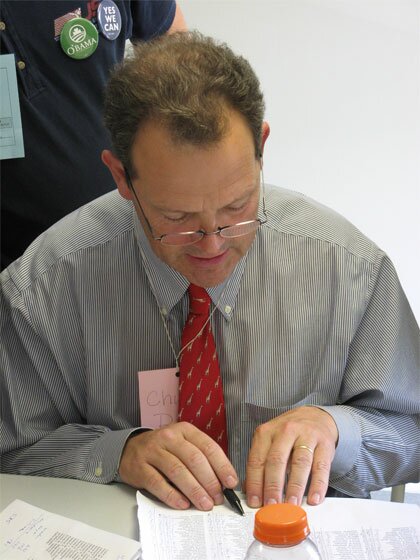 Chuck Ross counts votes. Ross won re-election as DNC Committeeman by an overwhelming margin.

It's a story of split second timing, mistaken venues, tragic mute donkeys, blown speeches, and blueberry pie. But before the narrative, some key facts.
What you knew already: the race for spots on the Vermont Obama Delegation was very hotly contested, with something like 110 die-hard Obama supporters vying for 6 slots, 3 reserved for men, and 3 for women. Ultimately between 600 and 700 ballots would be cast in the Obama sub-caucus.
VDB's final margin of victory? Six votes. You heard us. Six votes. And we will keep our promise: we will bring you imaginative and in-depth coverage of the Denver Convention the likes of which you've never seen before.
But it was a very near thing.
Another way of expressing the margin is this: if you wrote in to offer your vote at the convention, you represented a smidgin over 16% of that margin; if you convinced a friend, you accounted for a full third.
Some dedicated readers who whipped votes in the days before the Convention — Don, Tim Briglin, Susan Beard, Jack McCullough, Odum, ALG, Steve West, Allison Carroll, Rubenis, Jill Michaels, Karen Speerstra, Wayne Granquist and Kate Schubart among others — each single-handedly brought in enough votes to make the difference.
A nail-biter, to say the least. The slate as it finally stood, around about 2:37 pm Saturday:
Delegates
Carolyn Dwyer
Rachel Weston
Daria Mondesire
Arshad Hasan
Taylor Bates
VDB
Alternates:
Mary Sullivan
Michael Gaffney
Dan Barlow has a nicely detailed story here, including the very strong speeches by Leahy, Welch, Shumlin and Symington. Odum has a brilliant 9-minute video montage up now, that perfectly captures the flavor. The key news angle that only Green Mountain Daily has reported thus far? It was the Year of the Young.
Unless we miss our guess, VDB is the hoariest member of the delegation at 46. The youngest? Taylor Bates, the hottest 18-year-old political property in the state. The top vote-getter? Arshad Hasan, mid-twenties, Executive Director of DFA who partnered successfully with Rachel Weston, herself the youngest member of the Vermont House.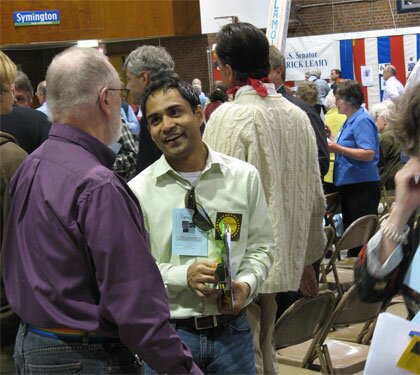 Arshad, in his element.
With Alternate Michael Gaffney, a college student making some very fast electoral tracks, you've got hard evidence of the sort of Wave that most Democratic strategists see forming to help carry Obama to Washington in November.
In 1972, when 18-year-olds got the right to vote, 25 million were supposed to come out for McGovern and end the War. They never showed. But Saturday proved one thing, friends: they're here now, and apparently they're looking to make up for lost time.
The other insider angle no one else will cover? Of the eight eventual Delegates and Alternates, six were profiled here on VDB in the week before the race. Given that we only profiled ten candidates total, that's a 60% success rate. Not too shabby.
But at the beginning of the day, we knew none of this. We knew only that the day would be long, and the metaphorical climb steep, and that people would paper us with random stickers as we entered the Convention Hall. And that all proved to be so.
But there was more, the unpredictable. The unknown.
Team VDB formed up at the On the Rise Bakery in Richmond. We were three-strong, and deliberately overbalanced on communications and marketing skills: both Erik Filkorn and Liz Schlegel, in addition to being exceptionally good sports, could sell dead cats to the Board of Health. And for all we knew, that might be necessary.
But in a rush of optimism we all ate a double-sized portion of French Toast, involving super-thick Portuguese white bread. It would prove to be a key blunder. Only later on the convention floor would we on the Team realize our error, when the ability to actually maneuver our bodies through space would be at a premium.
Best decision of the day? Sharing a table with Carolyn Dwyer and Mary Sullivan. By the time the crack VDB team had fumbled the venue and gone mistakenly to the Old Labor Hall in Barre, instead of the Civic Center, Carolyn and Mary had commandeered a prime location and covered the wall with Obama memorabilia.
And then it was time to drink bad coffee and work the floor.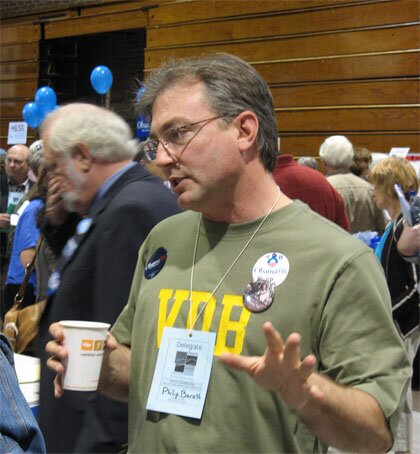 Little did we suspect that the man in the donkey suit also working the floor was not, in fact, hired by the Party to liven up the event. He was, rather, an extremely enterprising would-be Delegate named Ken Cook from Bennington.
And he was about to stage a PR coup that would shock the convention. Which brings us to the candidate speeches — 30 second speeches, mind you.
On the way down to Barre, Erik, whose job involves speeches and communications, offered good, succinct advice on how to boil an address to the Convention down to 30 seconds, a time limit that was to be strictly observed.
We thanked him for the advice and then ignored it, opting instead to launch into something that seemed almost sort of negotiable in just 30 seconds, but on reflection would have needed about 92 minutes. Chairman Chuck Ross politely but firmly hustled us off the stage about a third of the way through the botched speech, and it was from the audience that we saw Ken Cook make his move.
Remember, Cook had been wearing the donkey suit the entire two and half hours leading up to the speeches, but most people no doubt hadn't pegged him as a would-be delegate himself.
So when his name was called, and he walked slowly to the microphone, it dawned on the entire audience at once: the donkey is in the mix. It was a brilliant and bold move.
Slowly it became apparant that the donkey also had a stack of signs in his hooves. He held up the first one, which read: "McCain ="
Slowly he flipped it in the air, and the reverse read: "100 Years War."
Devastating mix of humor and politics and silent theater. But that was when tragedy struck: Cook of course had no thumbs, and so when he went to turn his second sign, he found that he couldn't. His hooves scrabbled helplessly on the shiny signboard. He pawed at the stack.
Slowly, the stack slid to the ground, and Cook kneeled slowly with it, still trying valiantly to make semiotic and political history, to string together the chain of signs that would carry him to Denver.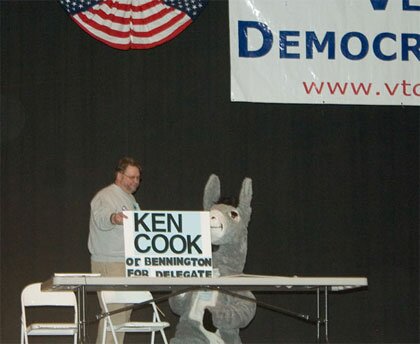 Finally, another delegate couldn't watch the mute spectacle any longer, but threw protocol to the wind and stepped in to do what both his politics and his sense of human decency required: save the donkey.
But it was too late.
The thirty seconds had elapsed in the meanwhile, and Chuck Ross gave the donkey the hook too. No one knows what those other four signs would have communicated, but that message might well have taken the convention by storm.
Six votes. Of mice and men. Of Democrats and donkeys.
All a way of saying that we are deeply honored to have made the slate, and honestly as grateful as we can possibly be to all of you who wrote in or called or stopped by for a chat or a handshake or a hug on the Convention floor, but we recognize the power of the Donkey, even if that force went tragically awry.
And when we do finally touch down in Denver, keeping the Sacred Vow we swore so long ago, we won't be doing it only for Vermont, and not only for Barack Obama.
We'll be there for you, Ken. And we honor your fighting spirit.
With that, the State Convention was over. Karen Speerstra and her amiable husband John had given us a blueberry pie (or "Blue Barry Pie," as she preferred to call it) and we went to a dark Barre pub and cut it open right there on the long wooden table, young and old Democrats alike, like nothing so much as a ragtag bunch of hobbits at an Inn on the distant edge of the Shire, looking for one last homely meal before taking the Fellowship out on the road.
[Many thanks to Paul Carnahan and Christopher Millsap for the killer pictures accompanying this post. And a bit belatedly, we notice that the Northfield Dems have some excellent coverage here.]