June 21st, 2008
Earlier this week we brought you the disturbing news of military helicopter maneuvers above the Denver Pepsi Center, site of the 2008 Democratic National Convention. Not the most soothing news for someone planning to shoehorn him or herself into the crowd of 50,000 plus in August, but at least black helicopters are a vague and impersonal threat. Not like the 88 MK-IV pepperball rifles the Denver police have just added to their arsenal.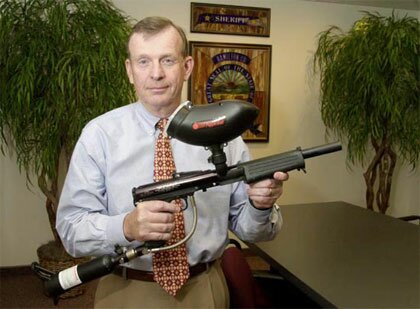 That's right: the Denver cops are laying down a very sizeable non-lethal marker in advance of the DNC.
The beauty part with pepperball weapons, of course, is the double bonus: the pepperball itself knocks a target down — more or less like a wicked hard stone thrown at high speeds into the body's soft tissues — and when it hits, it emits a fine cayenne powder that further incapacitates the target, and anyone within breathing range.
Couple of silver linings here.
First, organizers of the Republican National Convention are laying in Tasers as the weapon of choice, making the pepperball rifles seem almost limp-wristed by comparison, and second, there's nothing like a non-lethal projectile in the kidney to make you remember why we're fighting for freedom in Iraq.
Still, VDB has to confess, something in the early news coverage out of Denver has us brooding, more than a little.
Let's remember that Obama's acceptance will be delivered on the 45th anniversary of King's "I Have A Dream Speech." The historical subtext is political transcendence, but also social apocalypse, with distinct overtones of imminent personal danger.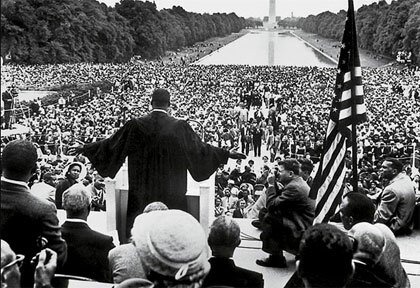 It was that central reality that made Hillary Clinton's remarks about RFK's assassination so controversial: they drew attention, like the scratching of a match, to the potentially explosive fumes slowly filling the room.
It's not for nothing that Rush Limbaugh has been predicting riots in the streets of Denver for the last several months.
And remember, too, the now-familiar line of derision with regard to Obama and his supporters, the cult comparison. Layered into that narrative, that metaphor, is the same presumption of final violence.
All of this has the Federal, state and local authorities on high-alert, already. And coverage of that high alert begets more coverage of the threat dimension, and so on, ad infinitum.
But not to worry. The ratings can't help but be high. And in America of the early twenty-first century, that's the surest sign that God is smiling.