July 14th, 2007
The Hamburger Summit Cometh: More Frequently Ass-Backward Questions
God help us, but the second annual Political BBQ and Hamburger Summit goes live in two days. That crucial date and time again: Sunday, July 15, 1-5. The location: North Beach, in Burlington.

Click here for obligatory
And to clear up any nagging queries, we present the final sequence of Frequently Ass-Backward Questions:
Q: I'm tempted to attend the BBQ, but I heard some unsavory stories about last year's event that have given me pause. I guess in particular I was disturbed to hear that there had been nudity, as well as some incident involving inappropriate physical contact between two of the participants. Can you confirm or deny this rumor? I may bring my kids, and I don't want them scarred, if you see what I mean.
A: Understood. Like many rumors, this one has its origin in a misinterpretation, a humorous misreading of an actual event. A misreading of an actual photograph, in fact: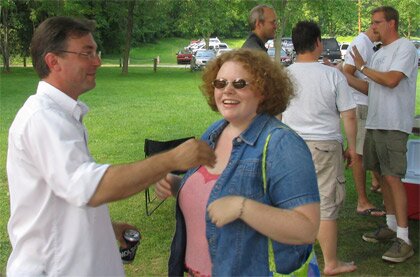 As you can see, an innocent moment, involving two bloggers understandably pleased to encounter one another in three dimensions. And Burlington, for good or for ill, is no Brattleboro: nudity is still a crime here.
Q: If it rains, will there be a rain date?
A: Even posing this question can only be considered an abject failure of moral courage. But let VDB say this about that. The National Hurricane Institute describes a Category 5 hurricane as follows: "Winds greater than 155 mph or storm surge greater than 18 feet above normal. Complete roof failure on many residences and industrial buildings. Some complete building failure with small utility buildings blown over or away." And we're here to tell you this in no uncertain terms: even in the event of a Cat 5 hurricane, we will occupy the beach. And we will not leave until the last water-logged bun has been consumed. (Current Eye on the Sky forecast calls for any rain to move eastward and away from the beach by early afternoon, followed by gentle sunshine.)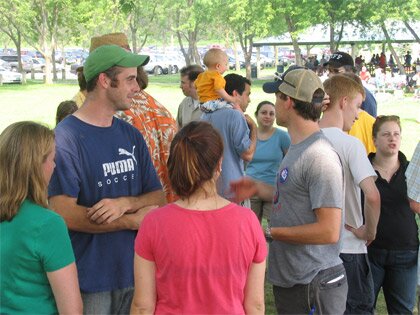 Q: What should I bring?
A: Nothing or anything. We will provide meat, drinks, and chips, but we're certainly open to all contributions: salads, desserts, lobster tail, truffles.
Q: In Shakespeare's Henry V, Act IV, the King's army is in despair because they are badly outnumbered by the French. But Henry insists before his soldiers that they are lucky to be so few, in that the glory will be divided up among fewer warriors. I quote:
We few, we happy few, we band of brothers;
For he to-day that sheds his blood with me
Shall be my brother; be he ne'er so vile,
This day shall gentle his condition:
And gentlemen in England now a-bed
Shall think themselves accursed they were not here,
And hold their manhood cheap whiles any speaks
That fought with us upon Saint Crispin's day.
My question is this: will political junkies who miss Sunday's BBQ eventually hold their "manhoods" cheap? Will attending really "gentle my condition"? And what's a "manhood," exactly?
A: Respectively, the answers are yes, yes, and ask Odum.