November 20th, 2007
President George W. Bush: How About the Soft Bigotry of These Low Expectations?
Bush came into office as the man who would hold America to not just one but a host of higher standards. Not just in the Oval Office, but in our workplaces and churches. Even our children would be tested relentlessly, to prevent what he famously labeled "the soft bigotry of low expectations."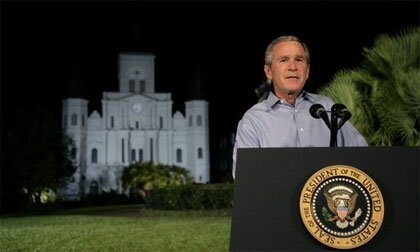 And seven years later, we are a nation eminently capable of fucking up a free lunch. So capable, in fact, that if we don't fuck up the free lunch entirely, but only to a certain extent, we're ready to break out the champagne.
The Post, on Bush's recent spate of so-called good news, from Iraq and elsewhere:
"In many ways, the shifting political fortunes may owe as much to the absence of bad news as to any particular good news. No one lately has been indicted, botched a hurricane relief effort or shot someone in a hunting accident."
Don't get VDB wrong: we're grateful each day we don't have to pick bird-shot out of our face and heart.
But good Lord, just what have we come to?