November 14th, 2007
If you felt the ground shake this morning, it wasn't a melt-down at Entergy's Vermont Yankee facility in Vernon. No, those tremors you felt came from much higher in the power structure than that. Several strong forces are now moving in the direction of decommissioning, and we want to just flag those here and now. While they're hot, so to speak.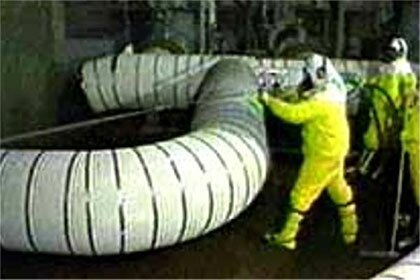 Anonymous photo shows VY workers in full regalia
First, and most publicly, the Douglas administration (via the Vermont State Nuclear Advisory Panel, and Public Service Commissioner David O'Brien) has now reversed its longstanding opposition to an independent safety assessment. O'Brien's stated view is now that a standard Nuclear Regulatory Commission review would be "insufficient" by itself.
See the excellent coverage by Reformer reporter Paul Heintz here. It's slugged, "Governor Flip-flops on Inspection of Vermont Yankee."
Now that smarts.
Granted, it remains to be seen what precisely the review contains, and who is eventually tapped to administer it. But the only other such review to go forward led to the closing of Maine Yankee in 1996.
Uncle Jim likes to be liked, and voters don't like pictures of collapsed water towers spewing thousands of gallons of unsightly run-off. C'est la vie.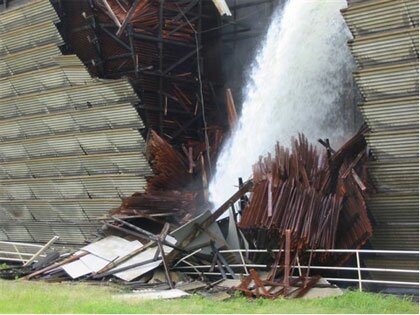 In 2003, nuclear expert Arnie Gundersen told the Public Service Board, "Again, the Board needs better information than it is being given. I strongly recommend that the Board engage the Governor and/or the legislature in insisting that the NRC perform a full independent safety assessment; the equivalent of one performed at Maine Yankee in 1996. The licensee should of course welcome such a vetting in order to restore public confidence in the safety of its operations."
And now, only four years later, someone's listening. Not too shabby. Not too shabby at all.
And speaking of Arnie, and his wife Maggie, we come to our second earth-shaking development. The Gundersens are not the type to take corporate happy-talk as truth; instead, they do their own homework. (Which works particularly well when the couple in question combines nuclear expertise with paralegal training.)
And the homework this time involved the following word problem: If Company E were to decommission Plant VY in 2012, would Company E have the money to see the process through?
The answer: not on your life.
To quote from their white-paper, which is now circulating at the highest levels in Montpelier:
The data supplied by Entergy indicates that the Decommissioning Fund does not contain adequate funds to dismantle Vermont Yankee after a permanent shutdown in either 2008 or 2012. Since Entergy Nuclear Vermont Yankee is a Limited Liability Corporation (LLC) and not a public utility, Entergy, VY's parent company may:
* Declare bankruptcy and leave cleanup of the reactor and storage of spent nuclear fuel to the State of Vermont and its ratepayers OR
* Delay the environmental cleanup for decades leaving this extremely toxic radioactive material stored on the banks of the Connecticut River until interest in the decommissioning fund has accumulated to the point that this LLC can afford to pay for a complete dismantlement.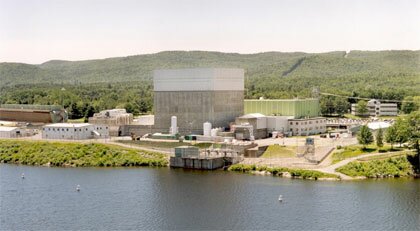 How significant is it that two high-profile VY critics have issued a report highlighting the quite possible default of the company on decommissioning?
Very.
A group of top lawmakers, Shumlin and Ginny Lyons included, has asked the State Auditor to investigate. And Salmon has made it clear he will do so.
Expect to hear more about the Gundersen Report as the weeks go by. It's more than enough to undo a hundred full-page ads of the sort Entergy ran in yesterday's Free Press, yammering on about safety, safety, safety.
Late Update, Thursday, 11/15, 3:45 pm:

That sure didn't take long. Entergy has apparently decided to admit to the conclusions of the Gundersen Report. They tell the Herald it'll be another 12-15 years, assuming VY were decommissioned in 2012, before they could scrape up their pennies and clean up their mess and go home.
And that's only if the stock market booms. If the next President has the Bush touch, it might be 25-30.
Round One: Gundersens.