April 24th, 2008
Back in November we broke a story that was initially dismissed, and then covered with some alacrity by the rest of the Vermont media: Maggie and Arnie Gundersen, two very articulate critics of Entergy and Vermont Yankee, released a white paper with some very striking conclusions, chief among them that Entergy's Decommissioning Fund was woefully lacking. Back then, we slugged our post, "The Gundersen Report Cometh." It was some hot stuff.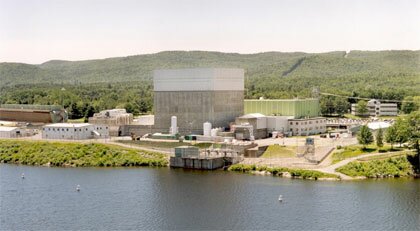 Today, we'd like to update that headline to something a little more current: "The Gundersen Report Cometh, and Kicketh More Than a Bit of Entergy Ass."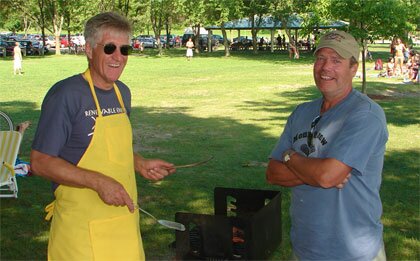 Arnie, in yellow, left, discusses corporate mendacity with Gorty Baldwin at last year's Hamburger Summit

What changed? Yesterday, the Vermont House acted (81-58) on the Gundersen's warnings, and voted to require Entergy to put up either enough cash or a sufficient line of credit to decommission the plant and return it to "greenfield" status.
Not "Safestor," mind you, but "greenfield." Which is to say that Vermonters should be able to use the site once it's decommissioned, rather than drive in a huge circle around it for 75 years or so.
"The legislation, which has passed the Senate, would direct the Public Service Board, if it approves the corporate restructuring, to make sure the new owners guarantee there will be enough money in the fund 'for complete and immediate decommissioning.'"

Terri Hallenbeck has a nice write-up, with more details. But one thing to note: the margin in the House was far from veto-proof. And they don't call Jim Douglas the Man From Entergy for nothing.
But what a tasty electoral issue that veto would provide. Or would, if Democrats had a candidate. Want to know why VDB is constantly pushing for candidates to declare early? Look no further.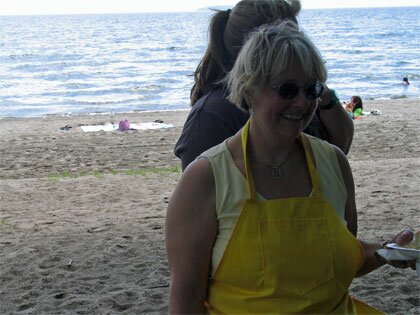 Maggie Gundersen, Hamburger Summit, 2007
It's not just that declaring early leaves time to unsettle and out-organize an entrenched incumbent, although that's the primary reason. It's also that a declared candidate allows you to manage that entrenched incumbent in the year leading up to the election, to help move him or her to your policy positions.
Will Pollina's Progressive candidacy be enough of a curb to make Jim Douglas do the right thing in this case? Only time will tell.
But for now one thing is absolutely certain: Maggie and Arnie Gundersen came to play.